Scotland's idyllic isles
Here's where to go to get away from it all and really relax. By Christopher Andreae
Kanye West mixes manga and music Arts diary: Hip-hop star to collaborate with the 'Warhol of Japan' on projects for new album.
TALLAHASSEE, Fla. - Florida's optical scan voting machines are still flawed, despite efforts to fix them, and they could allow poll workers to tamper with the election results, according to a government-ordered study obtained Tuesday by The Associated Press.
nerd news
Photos: Aviation lovers flip over Oshkosh air show
AirVenture is the largest annual air show in the United States with thousands of planes of all shapes and sizes converging on a city formerly known for kid's clothing. Tue Jul 31 12:20:00 PDT 2007 | Read full story
Recording industry threat looms over Net radio
Attorney Sherwin Siy says the threat to Net radio's survival is really about the recording industry's obsession to control digital music. Read full story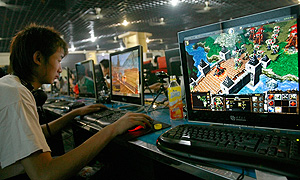 Changes in the way websites are named could have a massive impact on the way we think about the net, says Kieren McCarthy.
Veil Nebula Pierced by Hubble's Gaze Only 5,000 to 10,000 years ago, a star familiar to human observers detonated and burned with a brightness comparable to that of a crescent moon-an event visible even in broad daylight.
NASA Delays Mars Probe's Launch, Eyes Shuttle Cabin Leak NASA delayed the planned launch of its Phoenix Mars lander by 24 hours Tuesday as engineers trace an apparent cabin leak aboard the shuttle Endeavour for a separate spaceflight.
Hidden Black Holes Revealed Some galaxies hide the normally bright output of supermassive black holes at their centers behind thick veils of dust and gas, a new study finds.
Scaled Composites Forms Support Fund for Explosion Victims The private spaceflight firm Scaled Composites has formed a support fund to aid the victims and families of those affected by an explosion last week at the firm's California desert-based facility.
NASA Insiders Propose Stepping Stone Path to Deep Space GOLDEN, Colo. – NASA's Constellation Program – including the deployment of the Orion crew vehicle replacing the space shuttle – will first be assigned to International Space Station flights, then propel humans and cargo to the Moon. Expeditionary missions to Mars and beyond will follow.
addenda
from the August 01, 2007 edition - http://www.csmonitor.com/2007/0801/p03s01-nbgn.html
Etc.
Why North Dakota can claim bragging rights for its roads
When it comes to ranking road systems, as the Reason Foundation, a libertarian think tank in Los Angeles, does, states with less traffic and more wide-open highways generally fare best. Still, a more populous state such as Georgia (6th) managed to make the Top 10 in the foundation's latest study. The rankings, which take cost effectiveness into account, are based on performance in 12 other criteria on state-owned roads and highways between 1984 and 2005. Among them: congestion, traffic fatalities, condition of pavement and bridges, maintenance, and administrative costs. The state needing the most improvement, says the foundation, is New Jersey, which finished last for the eighth straight year because of poor pavement and high repair costs. The states with the best-rated road systems:
⁊1. North Dakota
⁊2. South Carolina
⁊3. Kansas
⁊4. New Mexico
⁊5. Montana
⁊6. Georgia
⁊7. Wyoming
⁊8. Oregon
⁊9. Nevada
⁊10. Idaho